Runway Fall Look Palettes!
Loving the new fall runway looks? Want to wear them for yourself? Here are palettes decoded, explaining all of the most popular fall looks for this autumn!
Pumpkin Spice
Fall means pumpkins and this post wouldn't be complete without a palette inspired by them!
1.) Apply a light golden vanilla hue to the upper lid, heavily in the inner corner of the eyes and to the botom lid. Blend outward. You want this to be metalic in tone, such as Nars Dual Intensity Eyeshadow in "Europa" ($29.00 ) 2.)Next apply a bronze shadow in the crease of your upper eye and blend outward. Also apply this shade to the middle of the lower lid and blend outward, leaving the inner eye vanilla shade you applied earlier visible on the bottom and upper lid. I used Ardency Inn Modster Manuka Honey Pigment in "Vintage Gold" ($21.00 ) 3.) This is really the focal point of this look! Apply a vivid golden tone to bottom lash line heavily. I used Stila Mafnificent Metals Foil Finish in "Metalic Gilded Gold" ($32.00) 4.) Line the eyes right above the upper lash line with a deep black liner like Stila's Stay All Day Liner in "jet Black" ($20.00) 5.) Really lay on the mascara with a thick, enhancing black ton like Make Up Forever's Smoky Extravagant Mascara in Black ($24.00 ) 6.) Apply a baby pink shade to the lips and the cheeks lightly. I picked up Nars The Multiple in "Orgasm" which works for both lips and cheeks! ($39.00 )
Chestnut N' Chilly
This palette embraces nude and chestnut tones while subtly enhancing the eyes.
1.) Swipe a cool nude lipstick like Make Up Forever Rouge Artist Naturals "Iridescent Nude" ( $20.00 ) on the lips. 2.) Apply a light, sandy eyeshadow to the inner corners of the eyes, like Urban Decay's "Blunt". ($18.00 ) 3.) Apply a deep chestnut brown color like Urban Decay's "Smog" to the upper lid and blend outward. Apply to the lower water line and smudge slightly. ($18.00 ) 4.) Lighty apply mascara like Tarte's Lights Camera Lashes Mascara ( $20.00 ) in a dark brown, grey or black tone on the upperand lower lashes. Applying this lightly is the key to this look! 5.) Contour your cheeks lightly with a subtle neutral tone for your darker shade, and a subtle, neutral/pinkish golden hue for your highlight. Makeup Forever Sculpting Kit makes that easy! ( $48.00 ) I used the " light pink " palette.
Bronze and Brisk
This palette is modern and fun yet combines the feel of fall and bright colors perfectly without overdoing it.
1.) Swipe a metallic bronze liner along the upper lash line in a thick cat eye, like Too Faced Bulletproof 24 hr Hour Eyeliner in Dirt Bag ( $22.00 ). 2.) Apply a light blue liner on the bottom lash line, like Bobbi Brown's Long Wear Cream Shadow Stick in "Iced Blue ". ($28.00 ) 3.) Apply a black mascara to your upper lashes heavily, I love They're Real by Benefit ( $23.o0 ) 4.) Line your lips sharply with a reddish orange liner, subtly darker than your lipstick. I love Make Up Forever Aqua Lip in "True Red" ( $19.00 ) Make sure the lips look crisp and clean, it really completes this look. 5.) Last but not least apply a reddish orange lipstick, subtly lighter than the liner you applied. I chose Kat Von D Studded Kiss Lipstick in Countess( $21.00 )
Black Cherry Bomb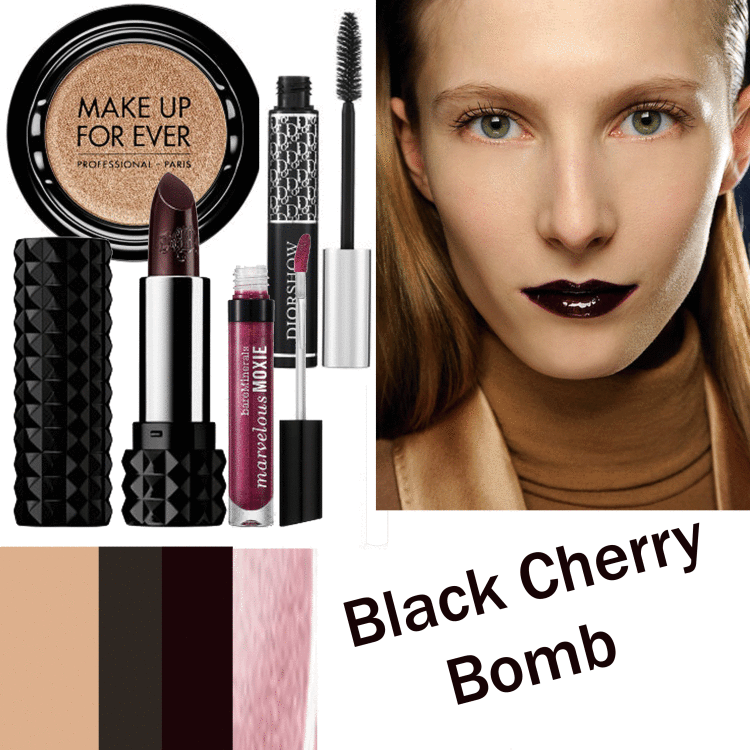 This palette encompasses one of the hottest runway trends this year for fall, bold berry or dark lips with a very neutral eye.
1.) Apply a neutral tone to your eyes that is 2 shades lighter than your skin tone, and has a bit of shimmer. I chose Makeup Forever Eye Shadow in Golden Biege Metallic ( $ 21.00 ) 2.) Apply a defining mascara lightly to the upper lashes only in a grey or black shade. Diorshow Mascara in black ($25.00 ) works perfectly. 3.) Next careully apply a black cherry shade to the lips. Make this look crisp and clean, becuase the lips will ne your focal point! Finding this shade can be difficult because you don't want black, and you don't want purple. I found Kat Von D's Studded Kiss Lipstick in MOTORHEAD to be the perfect black cherry shade! ( $21.00) 4.) Finally apply a luxurious layer of gloss! Don't be subtle with this remember the lips are the focal point of this palette. Try bare minerals marvelous Moxie gloss in "dare devil" ( $18.00 )
Enchanting Jade
This color selection looks amazing on olive or dark skin tones and also includes the popular gem stone trend this fall that includes jade tones, emerald tones and amethyst tones!
1.) Apply light, shimmery golen shadow on the upper lid and blend out to underneath of the eyebrow. Make sure you blend there, you dont want it to look like a massive area of golden white shadow. Apply heavily on the inner corner of the eye. Also apply lightly on the bottom lash line. I loved Urban Decay's "Vanilla" ( $18.00 ) for this. 2.) Next, apply an emerald tone like Urban Decay's "Loaded" ($18.00 ) to the upper lid, and blend at the crease into your vanilla/gold shade. Make sure to leave the INNER corner of the eye free of the emerald shade, and let the "Vanilla" tones shine through there. Apply this emerald shade to the lower lash line too, also leaving the vanilla tone shine through in the inner corner there. Make sure your emerald shade is also actually emerald and not green. If your shadow is too green this might look overdone. 3.) Contour the face lightly with a peach toned contour and highlight shade. Urban Decay's "Strip" in the Flushed Palette ($30.00 ) series has apeachy contour shade and a peachy highlight, perfect to compliment your emerald hue. 4.) Line the lips in a light chocolate hue subtly like Urban Decay's "Naked" lip liner ($20.00 ) 5.) Apply a peachy mauve tone like Kat Von D's Studded Kiss Lipstick in "Lovecraft" ($21.00 )